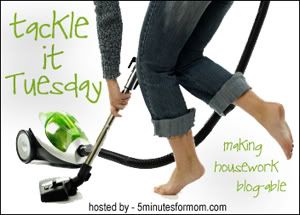 At MOPS today we learned about going green. I thought I was doing my part by recycling and buying "non-toxic" cleaners. I had no idea about the kinds chemicals found in the cleaning products and personal care products that I use everyday. I guess maybe because it isn't required to list all or any ingredients in cleaning products.
I'm all about getting rid of germs, especially with antibacterial soap. Well, guess what. Anything that wants to market itself as antibacterial must contain Triclosan. What's Triclosan? Oh, well it's just a chemical that has been linked to cancer in lab animals and is not recommended for use in the home by the American Medical Association. This
link
talks more about the harmful effects of triclosan.
Tackle it Tuesday
: I am going to make some home-made cleaners and start getting rid of a lot of the toxic chemicals I have accumulated. I found some good recipes
here
.
I probably sound like a crazy, conspiracy theorist person that believes everything she reads...that's what my dad would say at least.